Are you like most life insurance shoppers? Are you overwhelmed with the life insurance shopping process? Are you trying to make sure you get the best plan at the lowest rate you can qualify for?
We're often asked:
"What type of life insurance is best?"
"What type of life insurance do I need?"
"What are the different types of life insurance?"
The number of life insurance types, choices and options that are available to consumers can be very stressful and time consuming.
 Let's compare life insurance shopping with buying a new computer.
At first it is seems like a pretty simple purchase.
You have a need for a new computer, you go shopping for one and then you buy it. However, before you know it – you're trying to figure out all of the options that are available.
It becomes completely overwhelming in no time.
"Do I buy a Mac or Windows? What size screen? How many USB ports do I need? Processor speed, RAM size, Hard drive size?"
Life insurance is pretty similar.
You may start off thinking a basic Term life insurance policy is what you're in the market for.
Term life is the easiest life insurance policy to understand and the most popular, but does it meet your goals?
This article will help you better understand your life insurance options and figure out the best type of life insurance for you.
Life Insurance Face Amounts
How much life insurance do you need? This is one of the biggest decisions to make before applying for life insurance. Do you need a small policy to just cover funeral expenses? Perhaps you need a very large benefit because of your estate or business requirements?
Here are our most popular posts on life insurance coverage amounts:
Life Insurance Types 101
The two types of life insurance that people typically buy are Term life and Permanent life insurance.
Are you looking for life insurance coverage for a certain amount of time (Term Life Insurance) or for your entire life (Permanent Life Insurance)?
This is a good question to answer initially.
There are so many options to choose from once you answer that question. You'll be able to really customize you life insurance policy to suit you needs and meet your goals.
Related articles:
Term Life Insurance Policies
The least expensive type of life insurance is Term life. Term is the easiest to understand and is the most basic life insurance coverage to buy.
 A term life insurance policy will provide you a death benefit only. Due to only providing you a straight death benefit, it makes term life the most affordable.
This is especially true for healthy and young applicants looking for coverage.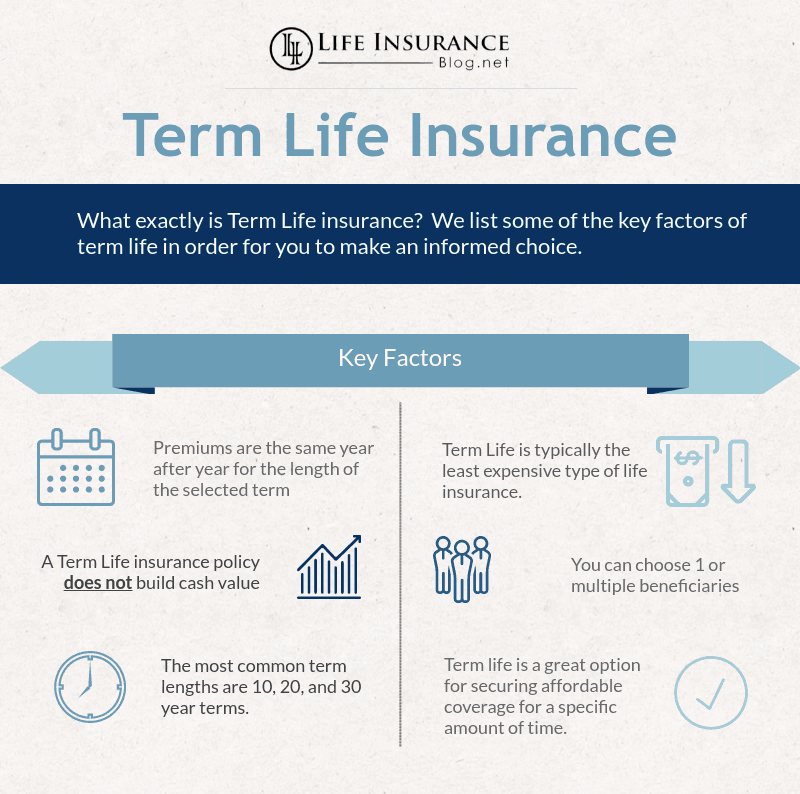 Which of the following best describes term life insurance?
Coverage forever?
Temporary coverage?
Your term life policy will be bought for a specific length of time or "term". It is temporary coverage.
Types of Term life insurance
The most common term lengths are for 10, 20, and 30 year term life.
However, there are term life policies for 1, 5, 15 and 25 years as well. There are 1 year renewable term life insurance policies that are beneficial for certain situations. Situation like if you were in between jobs or needed to cover a short term debt.
Your premiums are typically level for the term period you selected.
For example, if your policy was $88 per month and you bought a 30 year term. You would pay $88 per month for 30 years.
What if you were to outlive your policy and wanted to get additional coverage?
You would need to apply for a new policy and qualify based on your current age and current health status. There are term life policies that have conversion options that allow you to convert your term policy over to a permanent policy.
Each life insurance company that offers conversions will state the conditions of the conversion.
Part of the conditions is stating when you must decide if you want to convert. Once this passes, you won't have that option.
Related Articles:
How can I select the best term life insurance policy?
Shopping for and selecting the best term life insurance policy can be very simple.
It can also be a difficult task if you don't know all of your options or how companies underwrite you.
Finding and working with an independent life insurance agent is a great first step.
 There can be a number of complicated situations that you are completely unaware of. These situation may limit the number of companies available to you and drive up the cost of your premium. Unless you are in perfect health and you're young – an independent agent will be able to find out which companies will look most favorably to your unique situation.
If you are a little overweight, have (or had) a health issue, use tobacco, take medication, have a dangerous career or hobby – All of these and more are analyzed by the life insurance companies. Your agent will be able to research if you may qualify for the lowest rate, the 3rd lowest rate, or 10th.
If you use an agent that only works with 1 or a few companies – you may get a policy that is way more expensive than the competition.
You might even be denied depending on how strict that company is.
Related Article(s)
Permanent Life Insurance Coverage
With permanent life insurance, there isn't a limit on the amount of benefit time like a Term Life policy has.
  A Permanent Life Insurance policy is the best option you're looking for life insurance coverage to cover your entire life.
What type of life insurance has a cash value?
Permanent policies are completely different from Term Life because it provides cash value in addition to a death benefit.
When you pay your premiums, the money that is in the cash value portion of the permanent policy grows tax deferred.
There are a variety of permanent life insurance policy types. So let's look at them and how they're similar and different.
Whole Life Insurance Policies
Are there different types of Whole Life insurance?
Whole life insurance has a variety of names. It can be called "traditional whole life", "straight life", as well as "continuous premium whole life".
When referring to your typical "Whole Life" it is typically referred to an ordinary level premium whole life instead of the other types of life long policies.
Use our free instant Whole Life Insurance quoter below. Not all companies are listed within the results. Please call us for a customized quote at 888-411-1329.
---
---
Whole life is a life insurance contract that is constructed to provide you with protection for your entire life.
It is the oldest type of life insurance.
Your life insurance contract will have a fixed or level premium and a level death benefit. Your whole life policy will grow cash value. The cash value has an important purpose.
The life insurance company needs to have your policy's cash value reserve to accumulate early on. They need this to protect themselves so they have enough money towards the end of your policy. This is in order to pay out for your death benefit.
If they didn't construct the policy in this way, the life insurance companies wouldn't be able to pay the higher costs of mortality as you age. The premium alone without cash value couldn't cover the costs.
Your whole life policy will have a guaranteed and a fixed schedule of your cash value. This will allow you to borrow from your cash value at any time- no matter the reason.
You will pay a level or fixed premium for the life of the policy. The "life" of a whole life insurance policy is typically structured to be paid until age 100 if you can live that long. If you were to pass away before age 100, the life insurance company will pay the fixed death benefit.
What if you stop paying your premiums? The policy owner will terminate their whole life policy.  You will be able to receive a "scheduled cash surrender value" that is explained in your policy.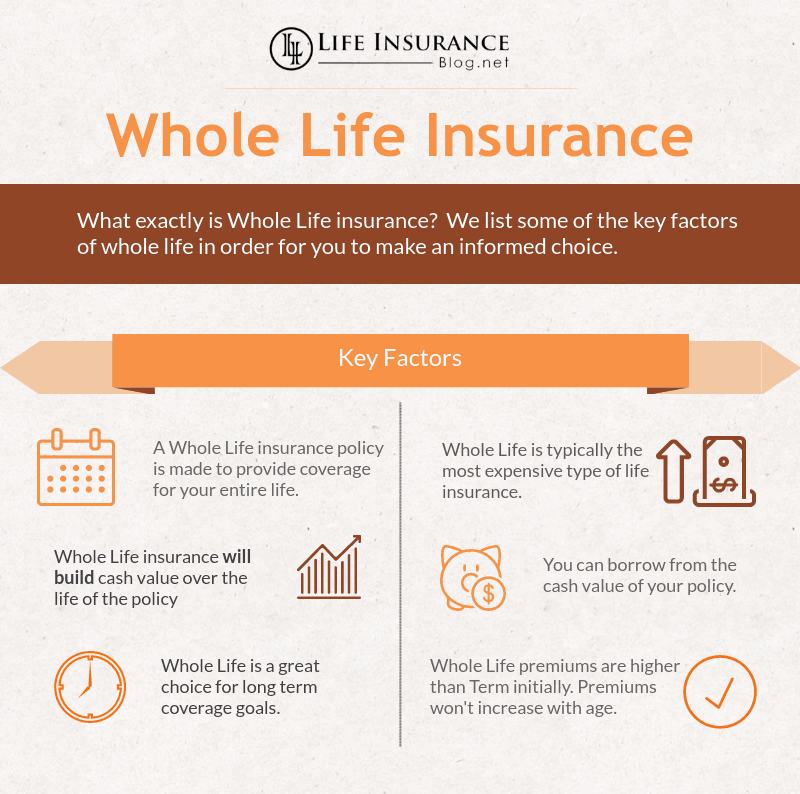 .
Whole Life Insurance – Pros
As with most purchases, there are pros and cons. Let's look into the positives of a Whole Life Insurance policy.
You can use your whole life policy as security for a personal loan or as collateral.
For the majority of situations, your death benefit is not subjected to the federal income tax.
Your whole life insurance policy proceeds will not be apart of the probate estate. Except for if the estate is the beneficiary.
The cash value aren't subjected to market risk like other long term fixed income investments.
You will benefit from tax deferred or tax free cash value earnings on your interest. This will depend on your gains being distributed during your life or at death.
Fixed premium.
The proceeds of your death benefit are frequently partially or fully exempt from your state's inheritance taxes. That is unless they are payable to the estate of the insured's.
The death benefit amount and who was paid will not be a part of public record.
The ability to borrow or withdraw from the cash value. You will have to pay interest on a policy loan, but your cash value will keep growing.
Whole Life Insurance – Cons
Premiums are typically higher than term life insurance. The most expensive type of lie insurance is usually Whole life.
Your protection will be lower when compared to the amount of premium paid vs term life in the beginning years. This is flipped around in later years of life when term will be much more expensive.
If you were to surrender your policy in the first 5 – 10 years, you may experience significant loss. A life insurance company structures the surrender value in order to protect their finances. This coverage is needed to recover money lost due to paying commissions and all of the life insurance policy expenses.
You typically can't deduct  the interest paid on your life insurance policy loans on your tax return.
.
Final Expense Life Insurance Policies
A Final Expense life insurance policy, for the most part, is a Whole Life insurance policy. There are Term final expense policies. Final expense is designed to help you pay for funeral costs and final expenses. It is designed so loved ones and family aren't burdened with paying "final expenses".
What would "final expenses" be?
Helping loved ones fly in for the funeral.
Paying doctor's bills.
Flowers and headstone
Final Expense policies have small benefit amounts – usually with a maximum of $10,000. The maximum benefit amount is dependent upon the company you choose. Some companies offer a higher or lower maximum death benefit.
Final Expense life insurance is typically bought by older age groups between ages 50 – 85. There are some life insurance companies that offer Final Expense over age 85.
Universal Life Insurance Policies
A universal life insurance policy will provide you premiums that are flexible. Universal life insurance premiums will allow the policy owner to adjust the amount of much they will pay each year. This is accomplished by gaining access to a portion of your universal life policy cash value.
It is extremely important to know that you must pay the minimum premium listed for you policy – you policy will lapse if you don't.
Universal life insurance may be a good fit for your life insurance needs for several scenarios.
You need flexibility with premium payments and your life insurance coverage amounts.
You want a permanent life insurance plan with cash value access instead of term.
The ability to borrow from the cash value.
What Are the Differences Between Universal Life Insurance & Whole Life Insurance?
Universal life and Whole life are two types of permanent life insurance. They are both designed to provide life insurance coverage for your entire life. They were both designed so they won't expire after a certain amount of time like Term life just as long as the premiums are paid.
Here are some of the key differences of universal life insurance and Whole life.
Universal Life Insurance offers you diverse payment options. This includes the possible ability to alter your death benefit.

Whole Life Insurance offers a level premium that is fixed. It won't decrease or increase. The death benefit is fixed.

The interest you pay for a Universal Life Insurance policy is typically adjusted monthly.

The interest you pay on a Whole Life Insurance policy is usually adjusted on an annual bases.

Universal Life Insurance has flexibility with premiums and death benefit.

Whole Life Insurance has a level premium and a set death benefit.
Guaranteed Universal Life Insurance Policies
A Guaranteed Universal Life insurance policy (GUL) is designed to provide coverage for your entire life. GUL isn't designed for cash value which makes their premiums lower than Whole life insurance, but more than Term life.
Guaranteed life insurance will give you a fixed premium to a specific age. You can buy a GUL from ages 90-121. This is unlike Term life insurance, where you purchase a policy for a specific time range (10, 20, 30 years).
In certain situations, a Guaranteed Universal Life policy is a better and cheaper option than a similar Term life policy.
Here are some key points and advantages of Guaranteed Universal Life:
You can choose a GUL to cover you from ages 90, 95, 100, 105, 110, or 121
Not as expensive as Whole life insurance.
Provides coverage for your entire life unlike the possibility of Term.
Related article:
Index Universal Life
Index Universal life insurance (IUL) is a type of permanent life insurance. What makes an IUL different from the other kinds of permanent life insurance? The Index Universal life's cash value growth is based on the equity index performance (excluding the dividends) and is collared by a cap and floor. The equity index is typically the S&P 500.
What if the indexes go down? You will be safe with a  guaranteed minimum interest rate. These guarantees will be based on the issuing life insurance company's claims paying ability and financial strength. The life insurance company is responsible for the obligations under its policy.
The key features of an Index Universal Life insurance policy are:
Greater potential of growth that a traditional universal life insurance policy.
Premium payment flexibility.
The money that is inside your life insurance policy will grow income tax deferred in indexed and fixed strategies.
Death benefit
Related article:
Variable Life Insurance Policies
A Variable Life Insurance policy is another type of permanent life insurance. The cash value of the Variable Life policy is invested into other sub-accounts. These sub-accounts are very similar to a mutual fund.
The Variable life insurance can offer you the possibility of a greater death benefit and cash value when compared to other permanent life insurance policies. This greater growth potential is due to you determining how your Variable life policy's cash value will be invested.
You will be taking on more risk with Variable life, but you also have higher growth potential.
Shoppers must understand the investment risks involved with Variable life. If you do, then it can be a good life insurance choice. Let's now look into how Variable life insurance works.
Variable life will let you choose how you want the cash value growth to be invested. You will have several investment options and asset classes to choose from.
Your Variable life insurance investment options can be subjected to the fluctuations of the market which can affect your policy and lose value.
Variable life allows you to select a lower or higher premium payment. These have limits however. You Variable life policy will decrease or increase according to these payments.
The Variable life policy provides you the option to alter your death benefit amount and option. It will be based on your Variable life policy provisions.
The ability move funds in your investment options. This will enable you to modify your goals throughout your life if your needs change. Please make sure to read your Prospectus – you must do this before sending or investing your money.
A variable life insurance policy's death benefit will never go under the listed guaranteed amount. However, your death benefit can adjust up or down. Variable life insurance is risky, but has the ability to grow more than a typical Whole life insurance policy.
Variable Universal Life Insurance Policies
Variable Universal life insurance policies (VUL) are a type of permanent life insurance designed to build cash value and provide a death benefit. This is similar to all permanent life insurance policies.
How does a Variable life insurance policy differ from a Universal life policy? The VUL can provide you the chance for a greater return based on its investments in the market. Universal life will offer you a fixed interest rate. Your investment options with a Variable life insurance policy may be altered with changes to the market. These changes may cause you to lose value in the VUL policy.
The Variable life insurance policy has charges and fees that other permanent life insurance policies don't have. There is no guaranteed minimum cash value in a Variable life policy.
No Medical Exam Life Insurance Policies
No medical exam life insurance policies are just what they sound like. You buy a life insurance policy without having to undergo a medical exam. Life insurance with a medical exam is how most insurance is purchased, but this has been recently changing.
Life insurance companies are beginning to offer more "Non Med" options. This is due to several factors such as improved technology that streamlines the medical underwriting process.
A life insurance policy with No Medical exam has the following key features:
Extremely fast approvals. Some life insurance companies have instant or same day approvals as opposed to 6 weeks with a medical exam policy.
Depending on the company and their underwriting criteria, a Non Med policy can be a great option for those with adverse or preexisting health conditions. This is because some companies only ask qualifying questions – if you pass those questions you can be approved.
Non Medical exam life insurance is typically more expensive than comparable plans with a medical exam. However, this isn't always the case. This is especially true depending on the company you choose and your current/past health.
Related articles:
How to Get the Best Rates for All Life Insurance Policies
This post has hopefully provided you with an understanding of the types of life insurance available to you.
Your next step as an educated life insurance shopper is to get life insurance quotes.
Whether you're shopping for a $250,000 life insurance policy or a 30 year term $2 million life insurance policy. You need to have your case shopped by an expert.
At Life Insurance Blog, you can use our free life insurance quoter to get a variety of term life and Guaranteed Universal Life insurance quotes.
What type of life insurance should I get?
So what is the best type of life insurance to buy? It will depend on your specific goals.
Simply call us at 888-411-1329 for a customized quote. We'll take the time to understand your goals and research which companies will give you the best rates and the best chance to qualify.
With over 40 companies to choose from, we'll shop your case before and after you apply so you know you're getting the best rate available on the market.
Thank you for reading our post, Life Insurance Types. Please leave a comment or question below.
Summary
Reviewer
Review Date
Reviewed Item
Author Rating